The Engineer That Lives On
<![if !supportEmptyParas]> <![endif]>
The voice that launched a show that no one would ever forget and become synonymous with engineers, scientists, and fans all across the world. No one will ever forget the man who brought to life one of the most beloved characters in the entire world of science fiction. One of the most popular phrases, that was forever misquoted and made an icon in the realm of Star Trek contributed to the memory that will last for years to come: "Beam me up, Scotty."*
Beginning with the man who brought to life the character of Scotty, is James Doohan. This is where it started. The following will be a brief look into the journey that brought James Doohan to Star Trek and beyond. Afterwards, the bio of the Starfleet Engineer Montgomery Scott will be listed in true military fashion. But, let's not rush too far ahead. There is far more to James Doohan than just Star Trek and Scotty.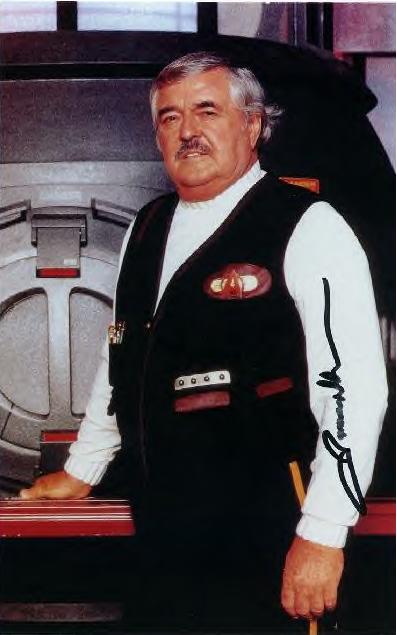 James Doohan AKA James Montgomery Doohan
<![if !supportEmptyParas]> <![endif]>
Born on 3-Mar-1920 in Vancouver, British Columbia, Canada, James Doohan came to be the youngest of four children to William and Sarah Doohan. His parents were, at the time, refugees from (for the most part) Protestant Belfast around the time of the Anglo-Irish war. Some time later, the family moved to Sarnia, Ontario, where James studied at SCITS (Sarnia Collegiate Institute and Technical School – high school). He received high marks in math and science. His father had many jobs, a dentist, pharmacist, and veterinarian. Supposedly, his dad invented a high-octane gasoline in 1923, although in James' autobiography, he was more of an abusive alcoholic.
WWII broke out when James was 19, so he joined the Royal Canadian Artillery, and was commissioned as a lieutenant during his career. The first combat he had been assigned to, was Juno Beach on D-Day, when the invasion began. James had taken out two snipers, and was leading his unit to a better position by going through a minefield before finally settling on a resting spot for the night. As he went between command posts, around 2330 (11:30), a German machine gun unloaded six bullets into him. Out of these six, four lodged in his leg, one in his chest, and the last through his middle right finger, which was later, amputated. Fortunately, his silver cigarette case stopped the bullet that would have gone through his chest. Even after his injuries, Doohan remained in the service to be a pilot in the Royal Canadian Air Force, flying an artillery observation plane.
Following WWII, James Doohan began his acting career after attempting some radio drama without success. This resulted in James studying a bit of Shakespeare, and finally landed a role on a CBC radio show on 12-Jan.-1946. In Toronto, he continued his drama studies, winning a 2-year scholarship to the Neighborhood Playhouse in NYC. During his time there, some of his classmates included Leslie Nielsen, Tony Randall, and Richard Boone.
For the next several years he starred in at least 4000 radio bits and over 400 TV shows. By this point James Doohan had become a versatile actor able to perform a variety of different accents and voices. Ultimately, that is what caught Gene Roddenberry's attention, Jimmy's talent for voices. It was the fact that Jimmy suggested the accent of a Scot that landed him the role that would forever typecast him as Scotty.
The stories from Star Trek on could fill too many pages but suffice it to say that shortly after the original show was cancelled, there were hard times ahead for Jimmy. Once the show went into syndication and Jimmy told his dentist, it was the advice that he received from his dentist that helped. These are not his exact words but the meaning was basically: Enjoy the ride while it lasts.
Jimmy began doing appearances at conventions and various places. Once Star Trek started up again, so did his career as an actor, well into his later years. He also began the Klingon language in the pre-production of ST:TMP when he made some vocals for the crew. These sounds were later expanded into what we now know as Klingon. His entire acting career is available for viewing on www.imdb.com
His first wife whom he married in 1949 was Janet Young, had 4 children, Larkin (1954), Deirdre (1957), and twin sons Christopher and Montgomery (1959). He later divorced in '64. His second wife Anita Yagel he was married to from '67-'72 His third wife Wende Braunberger he married in '75, and had three more children: Thomas, Eric (author of Pocket Players Guide for Magic: The Gathering), and Sarah his youngest born 11-Apr.-2000.
On August 31, 2004, Jimmy Doohan received a star on the Hollywood Walk of Fame. He had also been recently diagnosed with Alzheimer's. An example of how he touched the world was reflected when he announced in 2004 that he was retiring from public life, it was circulated in NASA newsletters, Aviation Week, and Space Technology.
On the morning of July 20, 2005 at 5:30 he passed away with his wife and friend, Steve Stevens (his agent as well), at his side. He had been suffering from Parkinson's, diabetes, Alzheimer's, and pneumonia. His ashes are to be sent, per request, into space with Space Services Inc. The tentative schedule is for September, and could be on a Falcon 1 rocket launching from California's Vandenberg Air Force Base. John Meredyth Lucas (Star Trek author), who died in 2002, his ashes are also scheduled to be launched alongside Jimmy's.
<![if !supportEmptyParas]> <![endif]>
* The original line from ST:TOS was: "Scotty, Beam me up."
References: 'Beam me up, Scotty: Star Trek's "Scotty" in his own words' (1996, ISBN 0671520563) and recent news from news.google.com
<![if !supportEmptyParas]> <![endif]>
AND NOW THE ILLUSTRIOUS MILITARY CAREER
Chief Engineer Montgomery Scott
<![if !supportEmptyParas]> <![endif]>
<![if !vml]>
<![endif]>
<![if !supportEmptyParas]> <![endif]>
STARFLEET HISTORICAL FILE: Scott, Montgomery "Scotty"
Mid-level Biography Brief Mode
Final Rank: Captain
Serial Number: SE-197-54T
Year of birth: 2222
Education: Starfleet Academy, 2240-44
Marital status: Single
<![if !supportEmptyParas]> <![endif]>
First Appearance: Montgomery "Scotty" Scott
Episode: TOS 002 - Where No Man Has Gone Before
Starfleet Career Summary
<![if !supportEmptyParas]> <![endif]>
2242 ? As ensign still enrolled at Academy, began first starship posting
<![if !supportEmptyParas]> <![endif]>
2264 ? As lieutenant commander, became chief engineer under Capt. James T. Kirk, U.S.S. Enterprise
<![if !supportEmptyParas]> <![endif]>
2269-71 ? Promoted to commander, oversaw refit of Enterprise at Earth
<![if !supportEmptyParas]> <![endif]>
2285 ? Promoted to captain, oversaw test of transwarp drive for U.S.S. Excelsior under Capt. Styles
<![if !supportEmptyParas]> <![endif]>
2286 ? Tried but cleared of wrongdoing in theft of U.S.S. Enterprise before UFP Council
<![if !supportEmptyParas]> <![endif]>
2293 ? Scheduled retirement but called into service for Khitomer peace mission; witnessed christening of U.S.S. Enterprise NCC-1701-B and death of Kirk
<![if !supportEmptyParas]> <![endif]>
2294 ? Presumed lost in U.S.S. Jenolen upon retirement en route to Norpin Colony
<![if !supportEmptyParas]> <![endif]>
2369 ? Rescued from 75-year transporter loop aboard downed Jenolen, left to roam on his own with U.S.S. Enterprise-D shuttlecraft Goddard
<![if !supportEmptyParas]> <![endif]>
Scott, known as "Scotty" as well as "the miracle worker" to his longtime comrades James T. Kirk and crew, was the chief engineer aboard the original U.S.S. Enterprise and its successor craft who resurfaced 75 years after his presumed loss en route to the Norpin Colony in 2369 — perhaps his biggest miracle of all. Bullish on his Scottish ancestry, he wears ceremonial kilts with his dress uniform, plays the bagpipes and is renowned for his love of Scotch and his beverage collection from all parts of the galaxy.
<![if !supportEmptyParas]> <![endif]>
Once calling himself "an old Aberdeen pub-crawler," Scott began active service in Starfleet in 2242, midway through the Academy, and served on a total of 11 ships — including a stint as engineering advisor on the asteroid freight run from planet Deneva. Kirk's original U.S.S. Enterprise was his first posting as chief engineer beginning in 2264, and his engineering feats more than once saved that starship. He returned to oversee the major refits of the ship in 2269-71, its successor the NCC-1701-A in 2286, and the short-lived transwarp engines tested on the prototype U.S.S. Excelsior a year earlier.
<![if !supportEmptyParas]> <![endif]>
Scotty had bought a boat in anticipation of his retirement three months after the Khitomer peace conference in 2293, but Kirk persuaded him instead to come back to active duty. On hand for the ceremonial christening of the U.S.S. Enterprise-B, he helped save the newly launched starship from destruction by the Nexus temporal ribbon and save El-Aurian refugees, witnessing Kirk's apparent death in the process.
<![if !supportEmptyParas]> <![endif]>
He finally did retire the next year at the age of 72, after 52 years in Starfleet, but for years was presumed lost with his courier ship U.S.S. Jenolen en route to the Norpin Colony, his new home. Not until 2369 was it discovered he was the only survivor of the ship's crash on the exterior of a Dyson Sphere, kept alive only as a transporter beaming loop until, ironically, he was rescued by an away team from the U.S.S. Enterprise-D — so disoriented that he thought Kirk had come to rescue him. After trading barbs and quips with Chief Engineer Geordi La Forge and helping to save that Enterprise, he received a permanently "loaned" shuttlecraft, the Goddard, from Captain Jean-Luc Picard and set off to roam the galaxy.
<![if !supportEmptyParas]> <![endif]>
Although Scotty was never married, he became involved with fellow crew member Mira Romaine in 2269 until she was transferred to Memory Alpha soon afterward. In later years Uhura expressed an interest in romance, but they never got together seriously.
<![if !supportEmptyParas]> <![endif]>
END STARFLEET HISTORICAL FILE: Scott, Montgomery "Scotty"
<![if !supportEmptyParas]> <![endif]>
Reference: Memory Alpha